Ashiatsu FasciAshi Massage St. Louis
Our bodies naturally crave health and balance, but in our busy world, with so many sources of stress (emotional, physical, chemical) overwhelming our nervous systems, it's difficult to maintain that sought-after balance. Have you received massage therapy before and thought, "I wish she'd get in that tight muscle deeper," and left wondering just what you paid for? At Somatic Sole, our FasciAshi ashiatsu massage will provide physical relief, as well as mind-body balance critical to living a long, healthy, joyful life. Once you experience barefoot massage at Somatic Sole, you'll stop searching for the perfect massage.
How it All Began
Ashiatsu massage, or barefoot massage, has its origins in the East, with different styles originating from India, Japan, China, Thailand, and the Philippines. Each technique uses different props and positions. It also draws on Swedish massage techniques, which use long, flowing, deep strokes and oils, Originating in Sweden, this type of massage is often used with people prone to injury, aches, pains, and tension. Ashiatsu combines theories from the East with Swedish massage fundamentals creating a fusion of deep pressure without pain.
At Somatic Sole Massage in Brentwood, we are honored and humbled to be the premier Ashiatsu Barefoot Massage Studio in the greater St. Louis region, certified through the one and only FasciAshi program.
How the Technique Works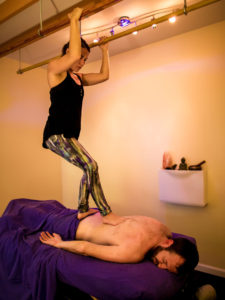 The barefoot massage is performed when we glide on your back, holding bars on the ceiling for balance, and use our clean, soft feet in a stream of flowing strokes that loosen, lengthen and smooth chronically tight fascia, muscles, ligaments, and tendons. During your session, the deep relaxation you'll feel within minutes lasts long after your appointment; some clients realize relief for a week or more, transcending any other kind of massage.
Ashiatsu barefoot massage is the perfect marriage of pressure and relaxation, leading to total mind-body surrender within the first few minutes. Because we are suspended above you using our feet to perform the massage, you are able to get into a trance-like state–there are no distractions and dead air time with changing sides or lifting of hands to move around. The weight of gravity and the strength of our legs, mixed with the Ashiatsu safe and fluid technique, will put you into a dream-like state that allows your body to give in and respond like never before. You'll leave Somatic Sole wanting to shout your delight from the street!
Some Benefits of Ashiatsu Massage:
It can help provide relief from physical maladies, including:
Chronic pain
Limited mobility
Repetitive strain injury (ie: carpal tunnel syndrome)
Postural problems
Osteoarthritis pain
Fibromyalgia
Muscle tension or spasms
Injuries (whiplash, falls, sports, etc.)
Also, it can help with emotional and life issues, such as:
Trauma
Depression
Anxiety
Constant stress
Sleep disturbances
Inability to think clearly
Being unable to "shut down"
Lethargy
It is no wonder barefoot massage therapy is taking the alternative pain management industry by storm. It's been written about in countless magazines and featured on CNN, The Discovery Channel, Great Spa Getaways, and The Travel Channel. And, from coast-to-coast luxurious, high-end spas have been adding barefoot massage. Who would've thought this truly life-changing therapy would come to St. Louis? And, at Somatic Sole, you have certified FasciAshi massage therapists and instructors in the greater St. Louis area at your disposal.
Schedule Your Ashiatsu Massage
If you've been craving a truly deep tissue massage and are in need of pain management, stress relief, or just an hour to completely let go, arrange for your Ashiatsu massage consultation or appointment today at Somatic Sole. With our most sincere hearts, we want you to go into the world feeling well-balanced, happy, and pain-free. We are completely dedicated to helping you feel better than you thought possible, from Sole to Soul. 314-722-6066.
 Ashiatsu Training
You, too, can learn to use your feet to provide deep pressure massage without pain. Ashiatsu training is a class is for Licensed Massage Therapists only. Call 314-722-6066 to find out more.